Camp Craft Cocktails are one of the most intriguing products in our pantry section. They are 16oz mason jars filled with a gorgeous array of dried fruits, flavorings, and cane sugar.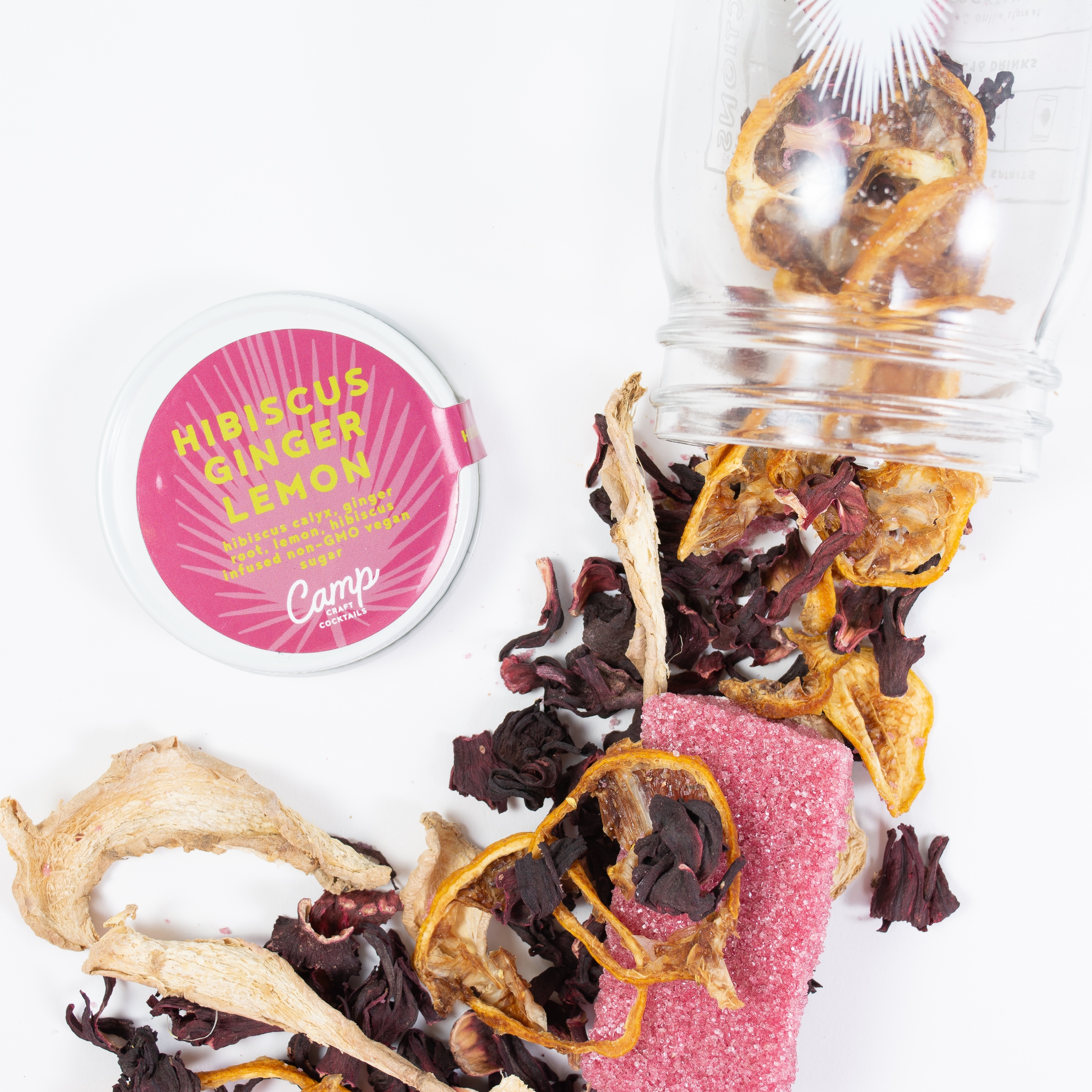 Ever go to a restaurant with specialty cocktails made with their own in-house infusions? That's what a Camp Craft Cocktail is, but you make it yourself at home! And who couldn't use some help with their cocktail game, especially with grilling season upon us. 
Here's how it works: Fill with 12 ounces of alcohol, refrigerate 3 days, and enjoy for the next 30 days as the basis for 8 craft cocktails. Keep it light by mixing a 1.5 ounce strained shot with tonic or soda. Get punchy by mixing a 1.5 ounce shot with lemonade or juice. You can also make a non alcoholic version by mixing hot water into the jar, instead of spirits.
I tried the Hibiscus, Ginger, Lemon flavor, which contains hibiscus calyx, ginger root, lemon, and hibiscus-infused vegan non-GMO cane sugar. It is one of their most popular flavors and I'm a big ginger fan.
I decided to mix mine with Tito's Handmade Vodka and used a measuring cup to figure out the 12oz. It came to the first ring at the top of the jar, so next time I'll just fill it to there and won't bother measuring. You can use any spirit you'd like in your cocktail, but you want to keep it to something that has less flavor of its own to it, so that you can get the full effect of the infusion. A clear liquor would probably be best, be it vodka, rum, tequila, or gin.
I shook it up a bit before refrigerating it and the color changed right away.
I couldn't resist peeking in the fridge, and three hours later, it looked like this!
I did manage to wait the three days, though, and tried a few cocktails made with the infusion. I went really simple with it and mixed 1.5oz of the infusion with a glass of gourmet ginger beer. Whew! Did that have a ginger kick! I then tried it with some plain seltzer water. That was really all I needed for an amazing cocktail and it really let the flavors of the infusion come through. 
The verdict: Camp Craft Cocktails are the perfect way to up your at home cocktail game. They're super easy to make and taste incredible. Try mixing one (or a few!) up for your next get together and impress your friends with a signature cocktail. Headed to a party? Mix one up a few days in advance to bring with you as a hostess gift.