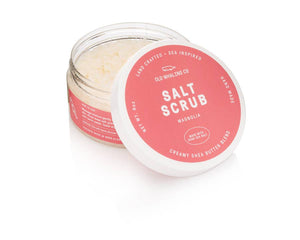 Old Whaling Co.
Magnolia Salt Scrub
Regular price
$14.00
$0.00
Unit price
per
The beauty of spring in the South is captured in this floral fragrance.

A moisturizing scrub with gentle exfoliating properties. Massage mixture gently into skin. Rinse away salt grains with warm water and towel dry.

Ingredients:
Dead Sea Salt (sea salt), Dendritic Salt (sodium chloride), Shea Butter (butyrosperum parki), Sunflower Oil (helianthus annuus), Sweet Almond Oil (prunus deices), Fragrance

98% Natural, NO: mineral oil, parabens, sulfates, phthalates or color

Handmade in Charleston, SC.

Old Whaling Company is a family owned + operated business in Charleston, SC. They were founded in 2012 with the desire to create a gentler alternative to everyday bath + body products.

Today, they pride ourselves in offering high quality, affordable, and beautifully handcrafted bath and body essentials inspired by the sea. Their products are handcrafted with formulations designed to leave skin feeling incredibly soft + clean. Their signature scents are thoughtfully selected to evoke our team's favorite coastal destinations + memories of past travels.

All products are sulfate free, phthalate free, paraben-free, mineral oil free, and never tested on animals.


---